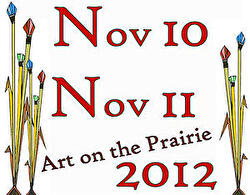 Art on the Prairie
In my last blog, I wrote about the upcoming "Art on the Prairie" Show happening November 10-11 in Perry, Iowa. This event showcases the artists of many mediums from visual arts to musicians and poets too. Artists will be set up in six locations around the town square including the historic and restored Hotel Pattee.
But who's behind this show and why? Shows are often organized by professional organizations as income producers and/or to promote their members and of course their organization. Some art shows, festivals or fairs are put together by a small group to promote themselves. Or an individual may do an exhibition hosted by a gallery and some artists are doing such on their own. Now in Perry, Iowa, four women, all involved in art, wanted to host a show for Iowa artists and use the format of that show to promote and educate about art. Making big bucks was not the motivation.
The four women of the initial "brainstorming and creating group" - Mary Nichols, Jen Heins, Jenny Ecklund, Carolyn Guay- each had some artists in mind and were committed to giving more talented Iowa artists an opportunity to show their work. The also wanted to reach across the spectrum of art to include not only visual arts, but also music, poetry and writing. Then they had this wild idea of interactive art, especially targeted at children. The show didn't come to reality overnight, but was planned carefully and certainly with dedication to the concept.
The initial committee went to a variety of art shows and venues and approached artists they admired and asked if they'd be interested in showing at their Perry show. They talked with artists they individually knew who had talent and had produced exceptional work, but had never shown! Some they had to really coax. When ready they put out the word through their own networks. And finally, about a year later, with a plan in place, a grant secured, community sponsorship committed the show came into being.
Art on the Prairie is now in its third year and is a huge success. The show is quite festive taking place in six locations all around Perry's historic town square. Artisans of all art mediums are on hand to show and talk with attendees about their work. Everywhere there is music, you can relax, sit a spell and hear a poem or enjoy an author reading. Art on the Prairie is truly unique and certainly worth a trip to Perry, Iowa on November 10-11th. What you will notice, too, is that the atmosphere, the ambiance you feel at this show reflects the intent and dream of the women behind it. Well done!
Comment on or Share this Article →
---
---
---
---