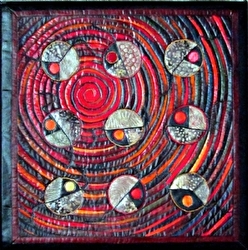 Earth is Sum of its Parts with Strings Attached
As the environmental crisis gains traction, I am re-publishing a blog post of January 2011. Although, my focus in art is printmaking, I have also created some textile art, one of which featured in this post. Your comments are welcome:
Social commentary has been expressed in art forms back to cave drawings. Social movements, war, politics, religion, oppression and more have been given a point of view and voice with brush, pen, film, theatre and many other mediums. Think of John Lennon's "Imagine", Dorothea Lange's photography of the Great Depression, Charles Dickens, or the art of children in concentration camps, just to name a few examples.
Recently I watched the first in a six part, documentary series about poverty worldwide on Link TV entitled "The Price of Cotton." The documentary, filmed in Mali and Texas, relates the story of cotton farmers in Mali, trying to gain access to markets juxtaposed to a Texas producer whose fate is in the hands of the American market system. In both instances, the small, non-corporate farmer falls victim to a system that serves the large agri-business system worldwide.
The cotton farmers in Mali are unable to compete in the market due to the price set by World Trade Organization (WTO). The family farmer in Texas is dependent on farm subsidies to remain in business - subsidies that will likely soon be discontinued. Farm policies favor the corporate farmers worldwide. There is no cohesive policy within any country or countries to stabilize the farm sector.
In my textile art piece, "Earth is the Sum of its Parts....with Strings Attached," my intention was to reflect the disconnect and disregard of nations to the impact of their policies on the environment and people in other parts of the world. Policies are implemented by Governments to serve interests within their own boundaries, ignoring the resulting consequences to other nations, their environment, economies and people.
The documentary, "The Price of Cotton*," shows clearly the influence of powerful nations in setting world prices and markets for cotton has affected already impoverished African farmers, and now hits back to the American family farmer too. It also shows the power of art in the form of documentary to tell a story.
*"The Price of Cotton", as well as the other documentaries in the poverty series can be viewed on Link TV online.
...............................
Your comments are welcome! Do you make social commentary with your art? What commentary in art form has moved you to action or informed?
SUBSCRIBE: My blog is a weekly release with features about art happenings, mine and others, as well as ....commentaries. I also write a periodic newsletter and you are invited to subscribe. My newsletter is a quick update on new art, events and blog releases.
Comment on or Share this Article →
---
---
---
---
---
---
---
---