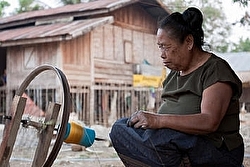 Laotian Weaver
Through Facebook, I have met some very interesting people, many of whom are artists. There are three women who are particularly special for their humanitarism and also in their support of indigenous peoples' art. They are Ellen Agger and Alleson Kase, founders of TAMMACHAT Natural Textiles. The third is Valerie Hearder, founder of African Threads, who will be the subject of my next post.
Ellen Agger and Alleson Kase founded TAMMACHAT Natural Textile as a fair trade, social enterprise to support weavers and artisans in Thailand and Laos. These artisans are indigenous people who are carrying on the traditional arts of silk and cotton textile production creating beautiful fabrics and wearables. "We founded TAMMACHAT Natural Textiles to bring together our interests and expertise in SE Asia travel, weaving, fair trade, photography and supporting women weavers in rural Thailand and Laos, " says Ellen Agger.
But Ellen and Alleson, who travel regularly to SE Asia, also believe that helping the artisans is also about raising consciousness about human rights and the environment. Says Ellen, "We believe that people impact human rights, communities and the environment with every purchase we make. So, it's important that people have access to fairly traded and environmentally friendly products."
I refer you to the TAMMACHAT Natural Textiles website to learn more. You will find resources and links to info about Fair Trade and the work of many other organizations who share their vision. And you will also find the TAMMACHAT shop with the beautiful silk and cotton fabrics and accessories made by the weavers of Laos and Thailand. The traditional designs, beautiful colors and masterful weaving makes each piece indeed a work of art.
And here's another place to learn about TAMMACHAT Natural Textiles' fairtrade work with Laotian weavers. TAMMACHAT is featured this week on the front page of Hand/Eye Magazine -- "Threads of Beauty: Changing Laotian Women Weavers' Lives One Thread at a Time" by Pamela Ravasio. http://www.handeyemagazine.com/content/threads-beauty
Hand/Eye Magazine i
s a fantastic online magazine that "explores the nexus between design and development, culture and commerce, art and craft, and environment and ethics." Most artists find the history and impact of art in society of interest, so if you've not this online magazine, here's your chance to see it and learn more about the SE Asian textile artisans and TAMMACHAT too.
Comment on or Share this Article →
---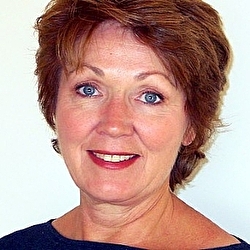 Bonnie Samuel
A recent Linkedin discussion about effective use of social media and sales sites to sell and promote one's art brought some interesting insights. The majority of comments came from artisans who have have planned their use of the internet judiciously and with success. I noted that they did not mention the chat rooms, teams or forums as part of their e-commerce strategies.
E-Commerce sites abound and most include "community", forums, and chit-chat. As for me, I have in the past involved myself in sites' forums or teams, such as on Etsy or Fine Art America, but in analyzing why and what benefit they have, I conclude really none. Some users spend time making comments and building community through chatting thinking that it will lead to sales...questionable. Some sites do offer some subject specific discussion groups that actually offer useful information or boarden your scope of internet use. Linkedin is one of those where you find good discussions with other professionals. But then it's not a sales site per se. Certainly, many of us find "Fine Art Views" a great resource for our art careers. And "support" forums serve as handy references.
Many of us who use the internet for marketing and promotion are using a combination of social media, blogs, and e-commerce sites. It is time consuming, but certainly doesn't have to be all consuming. I suggest having a plan and schedule for attending to your sites, such as check in times, sequence, cross referencing, blog entries, product updates and listings, newsletters, etc. Periodically evaluate the efficacy of your online presence. If one site seems not to be working over a 6 month period and isn't showing up in your stats, rethink using it. Be sure to allote time for research and tweaking as necessary. This is your marketing plan, which is a major component of your business plan. Review and tweak as needed.
Notice I didn't mention chat rooms or rah-rah for your team. Again, analyze the why of what you do online. If there IS a forum that offers you good exposure that will build your image, decide how you will present yourself, how often and track the stats/feedback. Justify your time in other words. Of course, you will occassionally make a quick comment on another's good work or interesting comment, or respond to an article that you find helpful too.

Using social media to image build and draw to one's sales site(s) is excellent marketing, but remember that what you say and put on those sights does reflect on you and your business side. Put your efforts into good presentation....and stay out of the chat rooms! One must have studio time remember. So what do you think?
Comment on or Share this Article →
---