When I go to the Ames, Iowa Post Office, I don't mind standing in line. Adorning one wall of the old building is a mural painted by artist, Lowell Houser in 1938. Houser was commissioned to paint this mural by the Federal Art Project, division of the Roosevelt Administration's Works Progress Administration (WPA). The painting, "Evolution of Corn," is an oil on canvas depicting the history of corn from Mayan times to the farmer of the 1930's.
The WPA Federal Project One (a division of the WPA) during the 1930's included work programs for artists of all genres. Artists, actors, musicians, writers, and playwrights left the big city theaters and elite galleries to work and teach in schools, the community centers and parks of America. People who had never been to a play or concert or been to a gallery were enjoying the arts in small towns and rural community across America-for the most part free. For people struggling during the Depression, the experience and exposure to the arts touched people emotionally and intellectually. Thousands of artists were employed by FPA and over 225,000 works of art were created for the American people.
The Mural Project in particular was accessible to people everywhere as the murals were installed in post offices, other Federal buildings, schools, libraries, city halls and airports. Institutions commissioned these works, agreeing to pay for the materials and paints, while the artists were paid by Federal Project One. Not only were thousands of artists thus employed, but local craftsmen and workers were put to work as well in the preparation of walls and structures needed to produce the large and magnificent murals. Themes for the murals were often nationalistic in nature, but also depicting America's cultural history, agrarian scenes, and everyday life.
There were about 2500 magnificent murals created in public spaces across America, many still exist today. Grant Wood, John Stuart Curry, Francis Robert White, Thomas Hart Benton were just a few of the artists creating murals under the WPA art project. Check out the old post offices near you-maybe you'll find a mural and start mailing by snail mail instead of email.
*Sources: The Institute for Cultural Democracy online; General Services Administration website; wikipedia; Nick Taylor's book, "American-Made".
_______________________________________________________________________________________
Subscribe to my newsletter, also from my website here, emails once or twice a month, announces new artwork, events or exhibitions of interest, and current blog topics. It is also short and sweet!
Visit my gallery to view my textile art and silk art wearables.
Let's connect! You can also find me on Facebook, Linkedin, and Twitter .
Comment on or Share this Article →
---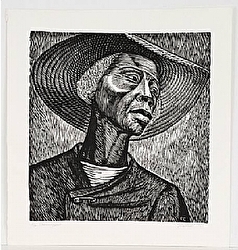 "Sharecropper" Elizabeth Catlett
Does your art make a statement, revealing your passions, interests, view of the world? Back in the 1930's a movement of "social realism art" emerged (not to be confused with socialist realism). Artists revealed their advocacy for social justice and the plight of those suffering economic devastation during the depression years. Many were activists and teachers who then had opportunity to take their message even further. For others, their view of society was born of values instilled by upbringing and education. Artists who themselves experienced social inequities were also inspired to paint, write, create plays and music with a message.
The list of notable artists who used their art to raise social consciousness on issues about which they were passionate is very long and includes painters, sculptors, photographers, writers, playwrights, musicians, and poets. Here's a sampling of artists of the 1930's, some more recent:
Elizabeth Catlett, granddaughter of American slaves, is a sculptor and printmaker. She was the first black to receive a MFA in sculptor (1940) at the University of Iowa. The intention of her work was to show the dignity of African Americans despite the hardships and injustices they suffered. Her work, "Sharecropper" is pictured above in this post.
Diego Rivera, 20th century Mexican painter well-known for his fresco mural paintings that reflected his concern for the impact of technology on human development. He painted his murals in public places, in Mexico and the United States, where the common man would have access to his message.
Pablo Picasso's "Guernica" is still revered today as a classic anti-war statement. In this work, Picasso depicts the devastation of war to people, animals and buildings and created in response to the 1937 Spanish Civil War when German and Italian warplanes, at the behest of Spain's national forces, bombed Guernica, Spain. A tapestry copy of this work hangs at the UN Security Council.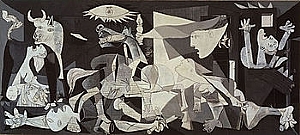 George Segal, (1924-2000) another American sculptor whose work in bronze "Depression Bread Line" tells the haunting story of the 1930's. Segal completed this work in 1991. He was known for his work portraying human values and the toll of economic turmoil on working people. George Segal received the National Medal of Honor for his life's work in 1999.
Certainly, John Steinbeck's "Grapes of Wrath" and other works reflect the times of human struggles and despair. Woody Guthrie's now classic songs also told the story, but were also uplifting and hopeful. Maya Angelou's writings brought awareness and understanding of blacks in America to millions through her stories of struggle and triumph too. John Lennon's "Imagine" became the theme song for the anti-war movement. The list of artists revealing their own views and passions in their art is endless and worldwide.
More next week on this theme.....
_________________________________________________________________________________________
My newsletter, also from my website here, emails once or twice a month, announces new artwork, events or exhibitions of interest, and current blog topics. It is also short and sweet!
Let's connect! You can also find me on Facebook, Linkedin, and Twitter .
Comment on or Share this Article →
---